Lead up - One week until start date
Sunday 23 Feb: Connecting with people day it seems. Called mum on Skype this morning and she is very excited for me and my journey and has told everyone she can at the nursing residence where she lives about my adventure.
This afternoon I met up with some fellow adventurers at the Pilgrimage Meetup. Even though they have travelled halfway across the globe to walk the Santiago de Compostela in Spain (and Rick has walked 3 other pilgrim walks as well) it is great to talk to fellow walkers to share a laugh and talk about travelling the road.
Monday 24 Feb: Began to feel antsy and wanted to just get busy preparing all the food for the trip but still made the effort to get out for an hours walk. Spent all of the afternoon buying the final items required and the bulk of the food.
Tuesday 25 Feb: Had a moment of OMG what am I doing, though this passed and I thought WOW I am finally going to be doing this! Spent all day packaging food and packing it all into creates.
Wednesday 26 Feb: Finally got around to putting up my tent to seam seal it, a bad move. It was very windy and the soil in our back yard is dry and very soft, a bit like a dust bowl. I managed to seal all the seams ok then went inside to let it dry. After about 10 minutes I thought I better check on it and the wind had popped 3 of the pegs out of the soft soil and the tent had dragged through the dirt. Now my nicely sealed seams have dirt stuck to them, aarrgh.
I became frustrated and annoyed as I tried to find other places to pitch the tent to no avail so I ended up pegging it on the line only to come out an hour later to find it all scrunched up one end. At least it wasn't in the dirt.
This evening I met up with some of my girlfriends to see the movie Tracks. In my opinion, it is a must-watch movie and I am so glad I was able to see an early release on the big screen. It felt very appropriate to watch it prior to my own journey, though I won't have to put up with searing heat and camels.
After the movie, my friends David and Lucia came to wish me well and we all stood in the cinema foyer making jokes and having a laugh about my impending trek imagining me pulling a rope with our car (i.e. camel) at the other end going moosh moosh Bubba. It was a great end to a frustrating afternoon.
Thursday 27 Feb: Went to go for my walk this morning at 8 am and looked at the temperature on my phone, it was 15oC (59oF) so I thought I would wait for it to warm up a little and go later. At 10 am I checked the temperature again and it was 14oC (57oF).
My brain kicked in with some self-talk that went something like this "Anni this is ridiculous you are going to be out in the unpredictable Tasmanian elements for 26 days and you are worried about how warm it is going to be for a 1-hour walk today, harden the F up and get your arse out there now"! Lesson (mental preparation) from this; there will be no room for stupid excuses when I am out there in 3 days time.
Friday 28 Feb: Bits and pieces day. Last-minute meet up with a friend this afternoon to catch up before I go. Felt flat this evening, I put it down to pre-trip blues.
Saturday 29 Feb: Final packing of the car this morning. Paul my wonderful man-made me my own pilgrim charm using the Nordic letter to representing my Danish heritage and my adventurous spirit. It was a lovely surprise to get this gift and it could not be more appropriate and cherished.
R = Journey
M = Movement
P = joy
B = Growth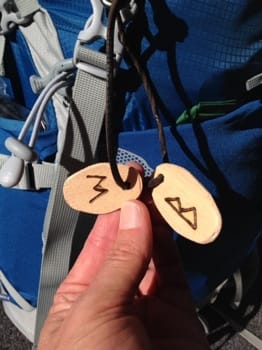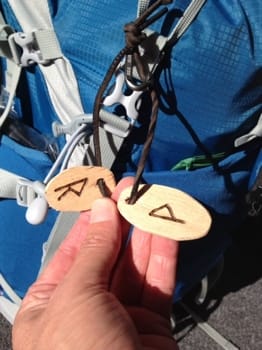 My lovely friends Kiah, Rachel, David, Rachelle & Mason came as a sending off party. After many hugs and kisses, we hopped in the car to drive off with the midday sun beaming upon us and click- rata-tat-tat the car would not start. After a couple more attempts we all went into action mode.
Out came the jumper leads and a friend moving her car closer to give us a jump start. Click, click, pause, then with another turn of the key the car finally started. With another round of hugs, and kisses we were finally off. The drive North went quickly and the accommodation at Blake's Manor in Deloraine was lovely. In our room, we were treated with goodies of cheese, port, chocolates and a warm freshly baked loaf of bread.
Edited with BlogPad Pro