Some revealing information I failed to include in my last post about my trek along the Tasmanian Trail… First of all omission, to complete the distance within 30 days I will be walking an average of 20km (12.4mi) a day. Currently, I walk 5.7km (3.5mi) per hour and when loaded up with a pack I estimate I will walk about 4km (2.5mi) per hour. This means I will be walking between 5-6 hours per day depending on the terrain. I will walk 6 days and have one rest day each week.
I have not set myself a cracking pace because I want to enjoy the journey, take photos, share on twitter and blog about my experiences along the way. My partner has decided to take the month of March off work and will be my support vehicle for any needs that may arise and to meet me regularly along the way (many camps are accessible by car) for food drops, so I do not have to carry four weeks worth of food.
I will be camping in a mix of designated campsites and winging it in the bush or on farms (yes I will knock on their door and ask them if I can camp on their land). The campsites do have water and pit toilets, otherwise, my water will be from creeks or rivers and I will find a bush or a tree to hide behind if nature calls.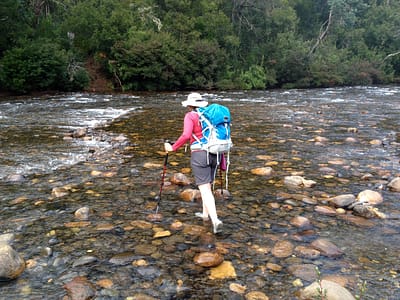 Discover Tasmania – Tasmanian Trail
As for admission the things that I worry about are; getting an itchy head because washing my hair will be difficult, sleeping out in the bush on my own in a small tent, getting big blisters on my feet, tripping and hurting myself so I will be unable to complete the walk, getting up each day and facing walking for 5-6 hours when I don't feel like doing it. I am sure there will be more I will worry about as I plan and as the starting date gets closer.
Walking has been my main form of exercise, though not always consistently, throughout my life. I am unfit compared to some people (though fitter than a couch potato) and I would say I carry an excess of 12-15kg (26-33lbs) that is not required for my body size. I have set a training schedule for the three months before my start date to help build my endurance so I am able to complete the walk within 30 days.
If you would like to follow my training and preparation stages you can do so here: Training & Preparation
I really enjoy the pace of walking because it gives me the time to focus on the moment and to be fully present and aware of what is around me while I walk. I am looking forward to finding my rhythm of pace and routines as the days pass along the journey. The two main reasons I am embarking on this trek is to fulfil the dream of wanting to do it and for my mother who always daydreamed of her children doing adventurous things.
If you decided to follow a dream you have; what would your fears be? What would you enjoy/look forward too most?