I listen to Good Life Project interviews and TED talks while on the cross trainer each morning because I find them very motivating and a great way to start my day. Last Monday while having my ritual wake me up morning cup of tea I read Kylie Dunn's latest blog post which included the 99U video of Brene Brown's talk Why Your Critics Aren't The Ones Who Count. I thought great, a new source of inspiration to draw from for my daily workout. Though this morning I had tossed around in my mind whether I was able to work up the willpower to get on the cross trainer… yes… no…yes…no…yes! It was like pulling petals off a flower as a child to know if someone loves you. Finally, I thought ok let's do this, I will listen to Brene Brown's talk as motivation. I grabbed my water bottle, towel and headphones, set myself up and got my legs moving.
Wow, what a great talk. When Brene put up the slide of looking up the stairs into the light of the arena and said "how many of you know this feeling by just looking at this picture" my throat began to choke up and tears welled in my eyes. I discovered how difficult it is to breath when crying and exercising at the same time. Taking in short deep breaths I managed to get to the end of the video and finish my thirty minutes of leg pumping. Afterwards, I realised that when I was debating in my mind if I would do a workout this morning I was in the basement and just by making the effort to get on the cross trainer that morning I had walked the stairs and shown up in the arena.
It is only when you show up each day and do the work that you actually have the opportunity to achieve your dreams or goals. My commitment to showing up in the arena over the coming weeks is my training for my 480km trek in March 2014, writing a blog post once a week, working on improving my blog, working out technology so I can blog and share photos on my journey and have fun while doing it each day. I choose not to listen to the critics especially the ones that are in my head. If I listen to the doubters and my doubts I will never achieve that which I dream of.
Do you have a dream, big or small, that you would like to achieve? How do you think you could show up in the arena today to make your dream a reality? What is your internal critic telling you? How will your combat critics who sabotage you?
For inspiration here is Roosevelt's quote: (image retrieved from QuoteHD)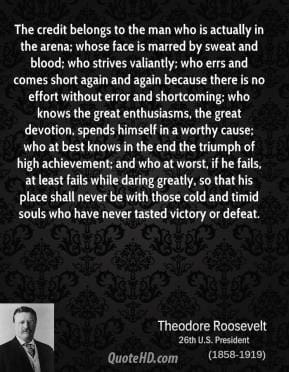 Edited with BlogPad Pro