Thirty plus cruise ships dock into Hobart each summer. Hoards of tourist disembarking for the day to explore the city either on foot or taking a guided bus/minibus tour around the city. I love this time of year and seeing these enormous ships docked in the harbour towering over the surrounding buildings. Watching the tourists swarm from the waterfront brings a smile to my face and my hope for them is that they enjoy their short stay visiting the city I love living in.
On reflection these tourists remind me of my appreciation of being a tourist in my own hometown. I will often cast my eyes up when walking through the city to look at the building facades above the shop fronts. Hobart is a small city currently in the process of redevelopment and I enjoy taking the time to observe what is new and what has changed. This treat of discovery is only possible because I live here and not available to those just visiting. I relish the discoveries that exist for me if I take the time to notice.
I remember as a child often going on a Sunday drive with my parents, looking around different suburbs. Driving an alternate route home or taking a Sunday drive around suburbs you would not normally go through is another way of being a tourist in you own town. Not being on autopilot of of getting somewhere or driving home allows you to become more observant because the surroundings are new. This is a practice I have decided to take up again from time to time.
On the occasions I consciously choose to be a tourist in my own town I delight in the unexpected experiences I encounter. Have you ever taken the time to be a tourist in your own town?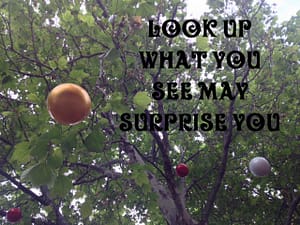 This is what I saw when I looked up while walking through Hobart mall this morning