Walking the Tasmanian Trail - Day 19
Rockmount Road to Glenora 23.9km (14.1Mi)
Today's walking started by entering Meadowbank Private Forest Reserve and once again I was on rarely used tracks through the forested bush which delights me no end. One thing I must say is that I do enjoy walking on my own and the sensation of isolation and aloneness is something that strangely gives me comfort and a feeling of being at peace.
On occasions when I tell people, particularly women, that I walked alone for 480km (300mi) they tell me that they could not have done what I did and that being alone in the bush would freak them out or be scary for them. I find it interesting how we are all different and respond to what suits our nature or soul.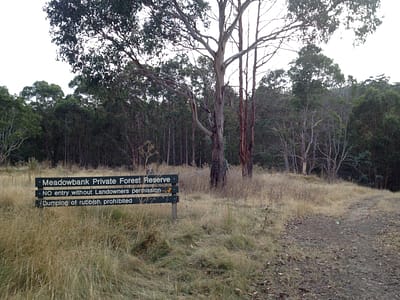 The terrain of this mornings walk is up and down hills that causes me to puff and pant as I walked, my legs feel strong but the constant up and down tested my aerobic fitness, which I know could be improved. Walking these hill made seems to me to be the hardest I have had to contend with so far.
The bush around me was scrubby and fire had passed through some sections which now gave way to some fresh greenery pushing up out of the ground. As I walk the sound of my walking poles, feet and squeaking backpack down out most other sounds around me, however when I stop to take a photo the silence surrounds me and any noises heard in this silence often makes me jump.
At the top of one of the hills, I paused to take a photo and I heard a thump, thump, thump that startled me in the first instance until I recognised the sound to be a kangaroo jumping in the bush unseen to me.
The scenery changed as I approached a gate that opened into an open field of golden grass. On the other side of the gate there was a marker pointing straight ahead but no clear trail through the grass. I followed my nose across the field and to my relief found another marker on the other side.
I was now walking across farming fields of pale golden grass and the change of scenery I was now walking across farming fields of pale golden grass and the change of scenery brought nothing but joy to my heart because it was so beautiful. I have to admit I took my most iconic and favourite photo along this stretch, which for me sums up the trail.
A small trail leading through the grass off into the distance reminds me that I can take the road less travelled and to trust my own markers and signs as I journey through life. I am not saying this is an easy thing to do and I had my bouts of uncertainty and fears on what direction to take while walking the Tasmanian Trail when the signage was not clear. However, I equate this to life and how we just need to keep on walking to reach our destination even if we are unsure of our direction at times.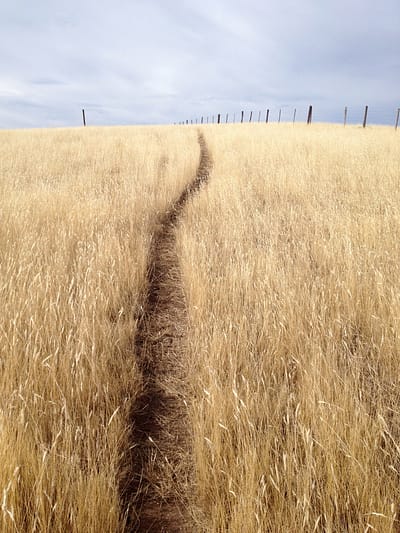 I find my way through the golden fields and eventually pass through a gate to start walking down Meadowbank Road. I see a sign to Meadowbank winery in the opposite direction and hanker to walk that way for a cool glass of wine and some nibbles, however, I keep my nose in the right direction and walk along the road as the gravel slips underneath my feet, a sensation I do not like especially when walking down a hill.
It is a hot afternoon and I find relief as I walk under the shade of the occasional tree. I pass the beautiful River Derwent that flows from the Tasmanian Highlands down through the capital city of Hobart into the Southern Ocean that extends to Antarctica.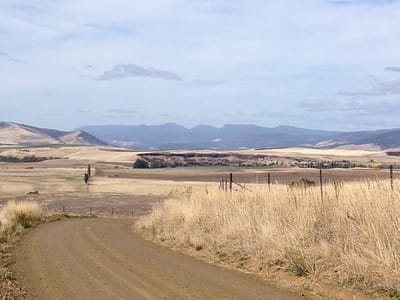 I turn into Gordon River Road to hike the last few kilometres into Glenora and on to Bushy Park where we were camped by the Styx River. As I walked through Bushy Park there was a strange smell and I could not work out what it was. After a while, the only conclusion I could come to was it was the smell of hops that are grown in this area.
I eventually realised that it was the hop-picking season and when I found some hops that had fallen from one of the tractors on the side of the road I picked up and put them to my nose I knew without a doubt that my conclusion was right. If you have ever smelt hops you will know what I mean, they have a very strong scent which my beer brewing partner Paul loves.