Walking the Tasmanian Trail - Day 23
Judbury to Bermuda Road & Old Bermuda Road 21.2km (13.3Mi)
Bermuda Road has two entry points at the Glen Huon Road intersection creating a triangle and my thought led me to wonder if I will be lost forever as I walk along Bermuda Road. Today's walking starts out up some gentle slopes and as the slopes turn to hills my pace began to slow down.
However, the wind is cold as it blows from the south and begins to bite through my clothing so I increase my pace up the hills to try to warm up. My legs are so much stronger now so going at a faster pace up these hills does not tax my body in the way it did at the beginning of my walk.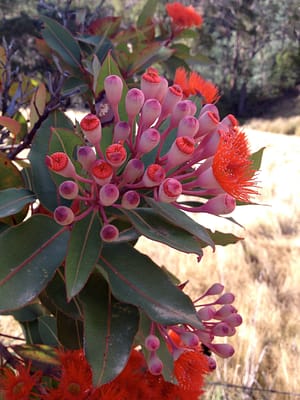 Today's walking leads me up into Scotts Divide and the scenery along the way is beautiful, starting with rolling hills of farming land to glimpses of vistas to the south.
After walking up one particular hill I passed a property and saw a woman sitting in a red chair in her driveway near her house. As I walked closer she spotted me and removed herself from the chair and started walking towards me and I knew she was up for a chat.
Kim had purchased this piece of land about a year ago and built the small house with the help of friends. She had spotted a snake among the woodpile stacked against the front wall of her house and I had caught her in her contemplative mood trying to work out the best way to build a new shed for her wood away from the house.
We swapped stories for about twenty minutes and she insisted I borrow one of her maps that marked out the forestry roads that I would be walking on tomorrow. I promised to return it to her as we drove back to our camp the following day and I headed back on my way.
Eventually, I find myself engulfed in a forested area once again and the road levels out as I reach the top of the divide. For some reason, I never did this before, I check my find a friend app on my phone and it seemed to show that Paul was behind me. I tried to call him but because the reception was so intermittent he must have been in a black spot and I could not get through to him.
There had been a Y intersection a little ways back and I became concerned that I was walking in the wrong direction. My mind made me worry to the point that I turned back to check the intersection to see if I had misread the arrows. When I arrived I found that I had taken the correct road and I reprimanded myself for not trusting my navigation because now I had to walk back adding an extra 50 minutes of walking to my days walk. I only had about half an hour left to walk if I had stayed on track.
I was almost back to where I had turned back and I saw a familiar car heading towards me and I sighed in relief. Paul had become concerned that I was taking too long to arrive at our meeting point and had come back to look for me. I was thankful that he did as I was now in a mood with myself and not enjoying having to retrace my steps and my feet were feeling worse for wear.
Not long after we arrive back at camp a friend of ours, who was a relief teaching at a nearby school in Huonville, came to visit. I enjoyed some time resting my feet by just sitting and chatting with her for about an hour before she needed to head back home to Hobart.