Walking the Tasmanian Trail - Day 24
Bermuda Road & Old Bermuda Road to Hermons Road & Boney Road 21.6km (13.7Mi)
The entry into Old Bermuda Road had a boom gate and I know that I will be walking alone into this forested area. I felt a bit spooked by this prospect, however, I experienced feeling like this on previous days and I know it will pass, so I settled into the rhythm of walking.
As the morning passes a gloom begins to settle over me as I become fully aware that tomorrow will be my last day of walking and I will have to return to my normal life. Despite yesterday's feeling of just wanting to get this walk over and done with today, I did not want it to end.
The surface of the road changes becoming covered with golf ball size gravel which is very uncomfortable under my feet. They slip under my sole as I walk downhill which causes me moments of fear that I am going to lose my footing.
The trees lining the road gave way to a clearing and I saw a sign that said near approach will cause instant death. At this point, the trail jumped from Old Bermuda Road to Bermuda 1 forestry road under some towering power lines. Feeling a little alarmed I paused to contemplate this fact for a moment and I wondered what near approach meant.
However, after a little, more thought I came to the conclusion that the trail guidebook would not tell anyone to go under these power lines if there was the potential of dying. I began to step carefully down the hill on some more golf-sized grave and it felt like my brain was beginning to tighten and I began to think was this the first sign of certain death?
Then out of the silence, I heard a strange sound, BING (pause) BING (pause) BING which freaked me out and distracted me from my thoughts of death. I stopped in my tracks and looked up wondering where the sound had come from. My first thought was from the power lines but could not work out why power lines would make such a noise.
As I looked down the hill ahead of me and could see forestry workers cars in the distance, maybe the noise was something to do with the work they were doing. Though I could not really work out what the sound was it continued intermittently as I walked the remaining distance under the power lines. To this day this sound is still a mystery to me.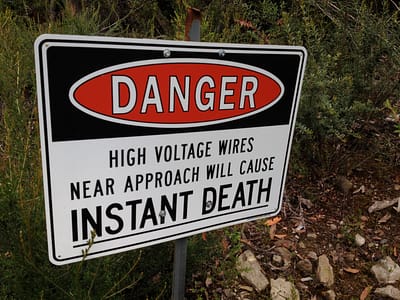 The Bermuda 1 road was lovely fine gravel and the terrain flattened making walking this afternoon much easier.  I loved it when I encountered no cars while I was walking and today, like many other days on the trail, I was lured into the feeling that the road belonged to me as I walked down the middle of it.
Walking into Geeveston along Four-foot Road there were two things I noticed, there was a stillness that felt very calming and it was very green. I had organised to meet up with Paul in Geeveston and we treated ourselves to a cup of coffee and a piece of cheesecake before I headed out for the last stretch for the day.
I walked the remaining nine kilometres to the start of Boney Road where Paul was waiting patiently for me. We drove back to our camp at Huonville knowing it would be our last night of camping for a long while and I have to say both of us looked forward to being back in our own bed.