Walking the Tasmanian Trail - Day 11
Pumphouse camp on Arthurs Lake to Miena Hotel 22.9km (14.2Mi)
I debated whether to walk the suggested route in the Tasmanian Trail guidebook or take the main road to my next stopping point at Miena. I did not make the final decision to take the suggested route until the last moment which found me walking about 7km (2.8Mi) along a closed Hydro service road that followed one of the many water channels that feed water to and from lagoons and lakes in the Tasmanian Highlands.  I had the most pleasant walk along Arthurs Flume Road enjoying the misty rain that intensified colours in the scenery around me.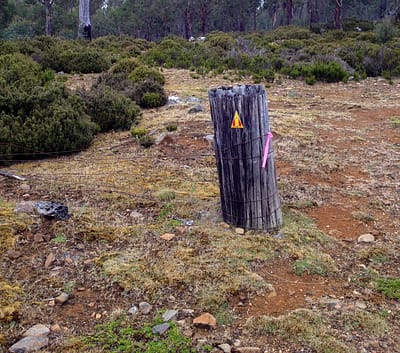 The reason I had left my decision until the last minute was that I thought this part of the trail was an access road for fishermen to Todd's Corner and I did not enjoy walking along dusty dirt roads where you could be surprised by a vehicle coming around a corner with little regard to what is ahead of them, it made me a little on edge and jumpy. When I knew I was walking down a road closed off with a boom gate I could relax and really enjoy walking where I wanted, crossing the road to look at whatever caught my eye and today a lot caught my eye. I was also able to experience the senses more clearly too, the smells, the way I felt and what I could hear. The scent of the earth was accentuated by the rain and I remember thinking how luscious it smelt. I felt peaceful and calm as I listened to the water drifting along almost silently next to me as I walked along. When I experienced moments like this on the trail I revelled in them and my heartfelt joy that I had taken the time out to do this momentous walk. Walking alone never bothered me, I actually enjoyed it, and when people asked did I find it mentally challenging or did I get bored I honestly answered 'no never'.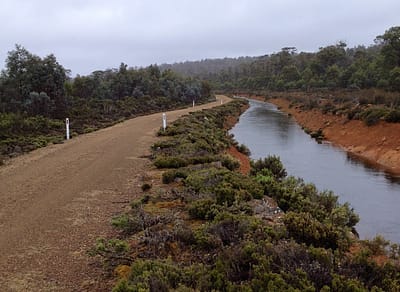 As I walked across the Ellis Plains on Todds Corner Road I passed some magnificent twisted dead trees and I promised myself that I would return to one day with an SLR camera to take photos of them. All the photos you see on this blog were taken with my iPhone because I could keep it in easy reach in a pocket and snap photos with the least disruption to my walking. I found that taking photos (over 1700 of them) slowed my walking pace down and I know I would have been a lot slower if I had used anything else. It was definitely the right choice to use my iPhone. I really enjoyed taking photos along the way and it reminded me of why I went to Art School originally, to do photography though I pursued a painting major in the end. It has rekindled my love of photography and I will certainly keep taking them throughout my life no matter what apparatus I use.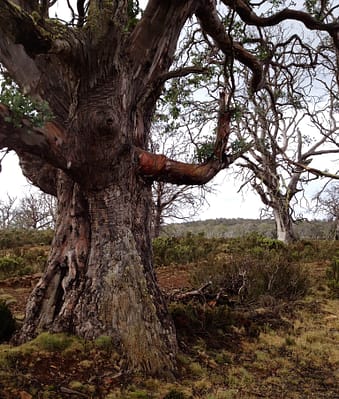 I took longer than expected on my morning walk (due to taking so many photos) and eventually I reached Paul who was waiting for me on the other side of Shannon Lagoon. We lunched together and then I trudged the last 6km (3.1Mi) into Miena. I say trudged because it did not get any easier to do the afternoon kilometres on any given day. We both were a bit tired and grouchy, in that tired sort of way, so we stayed in one of the fisherman cabins at the back of Miena Hotel as we felt we were in need of a real bed and a shower for the night.