Walking the Tasmanian Trail - Day 15
Bronte Lagoon to Lower Dee Lagoon  20.7km (12.1Mi)
Headed off from Bronte Lagoon after a lovely rest day in the comfort of the shack with a real bed and a shower at hand. However, sadly it was time to move on to Lower Dee Lagoon to start my third week of walking. Two things struck me along this section of the walk and both sensations were quite powerful. First, the smell of eucalyptus was so strong after the cool damp evening that it was like having my head over a steaming bowl of hot water with a few drops of eucalyptus in it. This is the only way I can think of describing how strong the smell was, suffice to say it was overpowering. The second was that the bush felt very majestic. Some of the trees were so tall that they were hard to capture in a single photo and others had thick trunks that made them look grounded and strong. The feeling of awe was palpable from the bush that surrounded me as I walked through it.
This morning walk also found me walking past the famous London Lakes Lodge where it costs $2,400 per night to stay in the Lodge by special arrangement or if you are on a budget you can stay in the Farmhouse for $500 per night. Oh and if you do decide to stay one of their guides must accompany you when you go fly fishing and they cost $500, though this fee does include all fishing gear, tuition and transit on location. Thought I would mention this if anyone reading this is interested in some high-end luxury fly fishing. 😉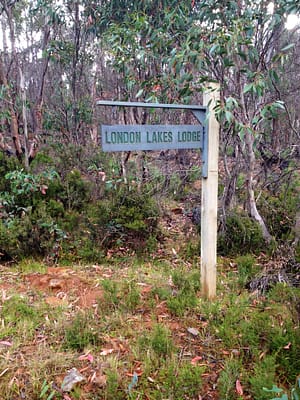 We were camping under an awning attached to our Xtrail that had attachable walls which worked well up until we started to experience more rain in the Highlands. Because there was no covering where the awning attached to the car when it rained it literally poured in between the car and the attachable walls.  Or friends and Scott & Leanne offered us the use of their Black Wolf tent and we were very happy to take up their offer. Paul arranged to meet Scott on the Lyell Highway near the Victoria Valley Road turnoff where I scheduled to walk today and we made a tentative arrangement to meet at Dee Portal Road for lunch. I arrived at our meeting point and sat on a log in the sun to eat my fruit cake and scroggin as there was no sign of Paul and Scott as yet. I was happily enjoying the sun for about 20 minutes checking the photos I had taken and then suddenly I let out a very loud scream as I noticed a very large inchman (ant) crawling up my leg. My instant reaction was to flick it off, promptly get up, put my pack on and continue walking. I have to admit that though I like being out in the bush I do not like large insects with the ability to give you a nasty bite, grimace.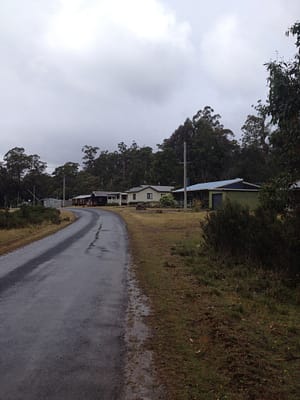 I walked through the town of Dee and after about two kilometres Paul and Scott finally caught up with me. They stopped and after a bit of discussion, I encouraged them to go to the campsite to set up camp and have their lunch as I had already had something to eat. There was a light drizzle falling for the rest of the afternoon which decreased my opportunity to take photos so it did not take me long to arrive at the campsite. Paul boiled some water for a lovely hot cuppa tea for me and we had a nice afternoon sitting around chatting with Scott. We were so thankful to him for taking the time out to bring us his tent which I must say was comfortably roomy and provided more protection from the elements and crawly critters.