Day 17 – Ouse to Lake Repulse Dam 10.6km (6.10Mi)
Because I walked a different route yesterday I decided I could walk into Ouse to camp for the night so I had less kilometers to walk today which was a pleasant prospect. The decision to stay at Ouse was worthwhile and we camped at one of the Tasmanian Trail official campsites. There was a shelter, a flushing toilet and a coral for the horses, not that we had need of the coral for obvious reason or the shelter as it was a lovely evening.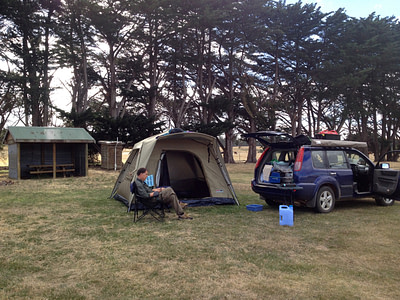 I felt a little despondent and frustrated as I headed out today mainly because of having to rearrange where we camp most days from the spots I had designated before we embarked on this journey. This was mainly because where I ended my 20kms of walking each day usually was not appropriate for camping. So trying to make a decision of where to camp without breaking the rules I had set myself to walk exactly every part of the trail the guidebook suggested became difficult. Because of how I was feeling I began to do some thinking and came to the conclusion that I could amend the rules I had set myself to accommodate the situation before me or stay frustrated. It did not really matter what road or trail I took, the important thing was that I walk from Devonport to Dover. This conclusion to go with the flow and be flexible helped me to relax, feel less frustrated and enjoy the daily routine of making decision over the rest of the trip.
On exiting Ouse I jumped the gate into the fenced forestry area that the guidebook said I was to take. However after walking a short distance over ploughed earth I realised that walking along this section was pointlessly difficult when there was a road running just on the other side of the fence line. Apparently permission for horses to travel on this road was not approved, but I thought I could get away with walking along it. As soon as I saw a hole in the fence, most likely made by a Wombat, I took the opportunity to crawl under the fence and take the easier path along the road.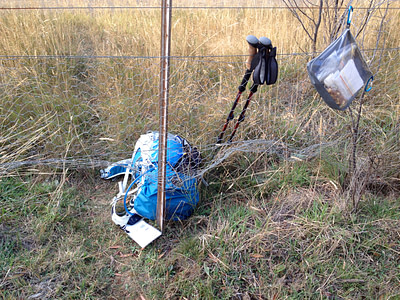 Spurred on a little by my flash of insight that I could break my rules and my decision to walk along the road had worked out so well I decided to take a shortcut across a paddock. I could clearly see the road below and thought why not! I jaunted down the hill across the field and along the road below towards the dam ahead. I arrived at the dam and checked my maps and things did not look right, I could not see the Lake Repulse dam crossing that was supposed to be there. Luckily some Hydro workers drove by and I flagged one down to ask them about the dam crossing only to discover I had come down the wrong road and ended up at Cluny Lagoon dam instead. He was very nice and offered me a lift back to Lake Repulse and as we drove back I could see where I went wrong. Because I had cut across the paddock I had missed a turnoff that was only a little further down the road if I had of kept walking down it. I learnt a second lesson for the day, some rules should not be broken especially if there is a potential of getting lost and walking numerous miles in the wrong direction.
Once back on track and having a coffee break with Paul I walked the final kilometers. After a short drive to look around the area we set up camp on the edge of Lake Repulse and enjoyed the evening taking in the view over the water.