Walking the Tasmanian Trail - Day 25
Hermons Road & Boney Road to Dover 19.4km (12.9Mi)
I started the day with mixed emotions of a longing to stop walking and desiring for this journey to never end. It was overcast, with no breeze and the temperature was ideal so there was no need to wear a jacket. This sort of weather made walking very comfortable which was perfect for my last day of walking.
After about an hour I emerged from the tree-lined forestry road into a cleared area and the big open sky before me was like a breath of fresh air. However, as I walked into this Forestry clearing the destruction of the trees felt desolate. It looked like a massacre with the debris of dried out dead trees lying in piles on the ground around me.
This feeling was short-lived as I soon entered into a life filled rain forest that was wet and moist with ferns, trees and birds filling the air with their song. The landscape changed once again and I found myself walking through an area that was much more akin to the west coast of Tasmania with button grass extending across a plateau. The surface of Boney Road also changed and I was now walking over a sandstone, clay and sand which was heavenly to walk on after the gravel roads.
I eventually saw Paul waiting for me at our designated lunch break meeting point and we sat on the side of the road to have a cup of coffee and a bite to eat.
Five logging trucks passed by and the sixth one drives to the top of the rise near us and pulls to a halt. The driver hops out and walks down towards us. We discover he is a fourth-generation truck driver working for the Forestry Tasmania and his name is Andrew.
I was very impressed that he had stopped his big loaded rig specifically to let us know to take care if we were heading down Stubbs Road because there was work being carried out in that area. As we continued chatting Andrew said he was glad to see people out enjoying the area and seeing first hand how Forestry managed these areas.
I have to admit that despite my feelings earlier this morning the majority of Forestry owned lands I had walked through since leaving Devonport was beautiful bushland. There were a few areas of pine forests in the north of the state and I only passed through three areas of Forestry clearing along the whole 480km of the trail. Andrew was right I had seen first hand the work of Forestry and I had enjoyed walking through many areas owned and managed by Forestry across this state.
While walking the last eight kilometres a lot of native bees buzzed around my feet and I could hear them buzzing in the bush around me, it was so good to see and hear so many of them. I also remember at one point quicken my pace thinking 'I can get to Dover and it will be all over,' then as quick as this thought entered my mind the next thought came.  'Slow down and enjoy the last few kilometres of your walk Anni, don't rush just enjoy these last moments. So I did.
When I eventually saw the water of Port Esperance in the distance I took a breath in and let it out realising that my walk will be over in the next two kilometres. As I entered Dover I noticed the pride that people took in their yards, everything was neat as a pin. This observation with the smell of salt and seaweed in the air made Dover feel relaxed and prosperous.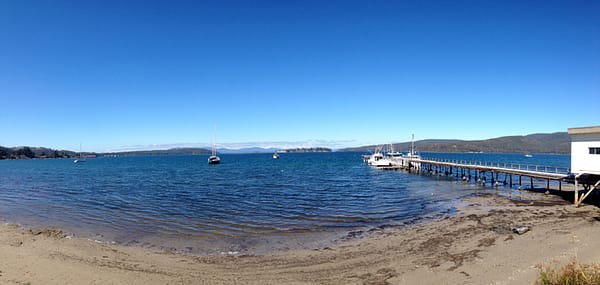 The dramatic changes in the landscape and perfect weather made walking today a pleasant journey of discovery. Combined with the joy and sense of accomplishment I felt it was a fantastic last day of walking the Tasmanian Trail.
On my arrival in Dover Paul had a nice surprise of streamers, candles and paper whistles to cheer me for completing my walk. After taking a moment to revel in this fact we headed to the Post Office Cafe for a celebratory drink of champagne before making the final drive home. Wow… I can hardly believe what I have accomplished.