Walking the Tasmanian Trail - Day 6
Cluan Tiers Road to Bracknell 21.2km (13.3mi)
I left Paul to do the bulk of packing up camp and headed off about 7.30 am, the earliest start I had managed so far. The trek up Cluan Tiers Road was straight forward, though when I arrived at the first intersection I went into a bit of a panic thinking I was not on the right road and concerned that I had taken a wrong turn yesterday afternoon.
I called Paul, the joys of modern technology, just to check and he assured me with all confidence that I was on the correct road. I really don't know why I panicked like I did, though my suspicion is that I could not deal with the fact that I would have to turn around and walk another 100 kilometres (yes I know I am exaggerating) to get to the right road.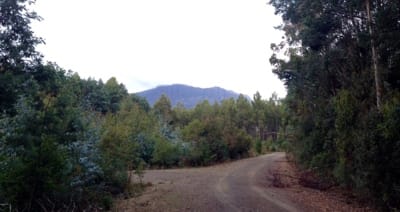 As I came up the final hill of Cluan Tiers Road a view of the Cluan Tiers appeared before me, it is always rewarding to see such sights after a long climb. Eventually, it became evident I was now on Myrtle Creek Road when the clear forestry road turned into a disused road, which had a labyrinth of tracks and trails leading in all directions from it. It was a confusing part of the trail and I needed to keep a vigilant lookout for the small yellow and red arrow markers and referred to the waypoints on my GPS regularly as I went along. The guidebook said there was a lookout along this section but I did not see it, probably because I was concentrating on making sure I was taking the right path. Before I descended down again I did pass through a beautiful but eerie forested area that made me pause and look in appreciation at the wonder of the variety bushland in Tasmania. Eventually the road lead me down passed a working sawmill, though it was not active when I passed through, and found Paul waiting patiently for me on the other side of the boom gate that kept people out of the mill area.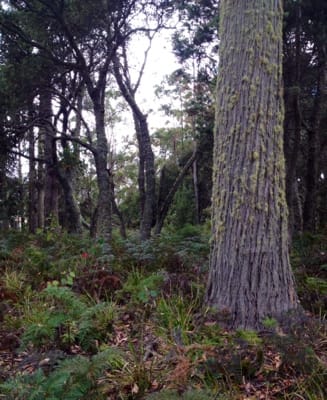 We ate lunch and then it was time to start my final leg into Bracknell where I could look forward to a rest day. The day was heating up and as I passed the cattle farmland the flys were sticking to me and attempting to land on my face. I must have looked ludicrous swinging my hands towards my face with two walking poles attached, but it was all I could do to keep them away. The approach into Bracknell was strangely quiet and I was captivated by the silence that surrounded me. Then suddenly twenty or more Harley Davidson's growled and roared past me shattering the silence until they glided off into the distance and the peaceful silence was given back to me. Bracknell is a typical small sleepy Tasmania town with one pub, a small shop and a free campsite on the Leffey River that has a flushing toilet and power available in the BBQ shelter. Paul picked out a lovely camp spot by the river, I had a visit from my good friend Rachel to look forward to and my feet would get a well earned rest so I anticipated an enjoyable rest day ahead.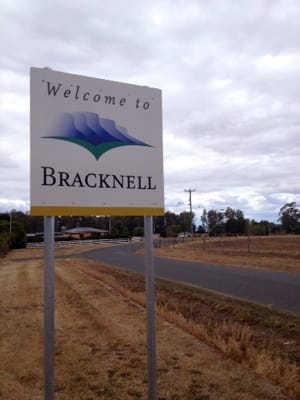 Edited with BlogPad Pro