Walking the Tasmanian Trail - Day 8
Bracknell to Cathcart Bluff, Hop Valley Road 20.6km (12.8Mi)
As I walked out of Bracknell I was greeted by a cloudy morning sunrise and hoped that my legs and feet would settle into the routine of walking again after my rest day. The first 10km I passed through open farmland with not a tree in sight and I would have given anything for a bush or tree to hide behind to relieve my full bladder.
Then I remembered back to the week before embarking on this journey a discussion with Paul about this exact same scenario, wondering what I would do. At that time Paul suggested I use my poncho as a cover which I thought was a great idea and we had a bit of a giggle about it all.
Out came my big bright green poncho and as I was putting it on I noticed a large bull in the paddock watching me. So there I stood in my green glory, using my trusty homemade FUD in front of that bull with all the confidence in the world, that is until I heard the chainsaw.
I looked up to see some farmers in the distance cutting a large tree that had fallen and relief washed over me once I saw how far away they were. At that distance, I would have just been a green blob and they were probably too busy doing what they needed to do to notice me anyway.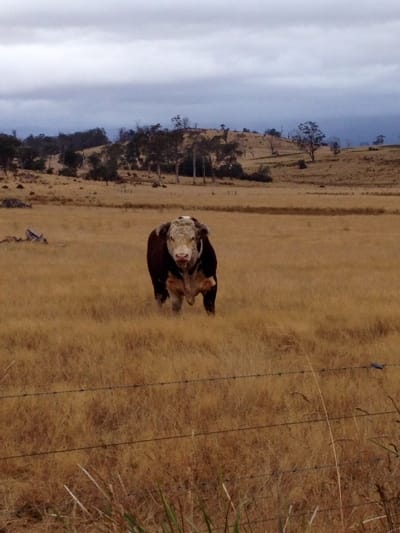 Eventually, the sides of the roads became wooded for a short period before I entered into what I would call a back of nowhere farming area as I passed through Blackwood Creek. The most interesting thing along this stretch of road was a mailbox made to look like a reindeer. Paul became delayed in his morning routine and would not arrive on time at our designated meeting point for lunch so we set
Paul became delayed in his morning routine and would not arrive on time at our designated meeting point for lunch so we set a new meeting point and I kept walking. As I walked Cathcart Bluff began to appear in the distance, shrouded in the cloud it loomed mysteriously and I wondered what the climb up it tomorrow would be like.
When Paul arrived at our new meeting point I was relieved to hop in the car as my morning walk had been longer than usual and my feet were sore. Just down the road, we found a nice spot to pull off the road and eat our lunch.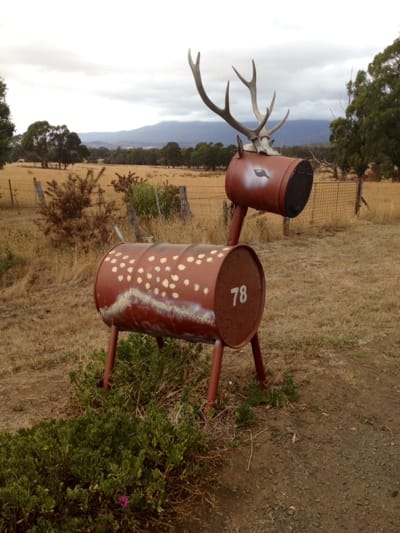 We were unsure if there would be any suitable camping spots at the end of Hop Valley Road so we did a recon drive to check it out after lunch and it became very apparent that we would not be camping there for the night. We needed to drive back in the direction we came so I got out of the car at end of Hop Valley Road (my starting point for tomorrow) and Paul went ahead to wait for me.
It felt a little weird walking in the wrong direction for the last five kilometres of that day. When I reached Paul we discussed where to camp for the night it did not take us long to decide to contact our friend who lived in Longford to see if we could camp out in his back yard. As luck would have it he was heading back to Hobart for the week that afternoon so we got to sleep in a real bed. After sleeping on camp mats for a week it was a luxurious treat.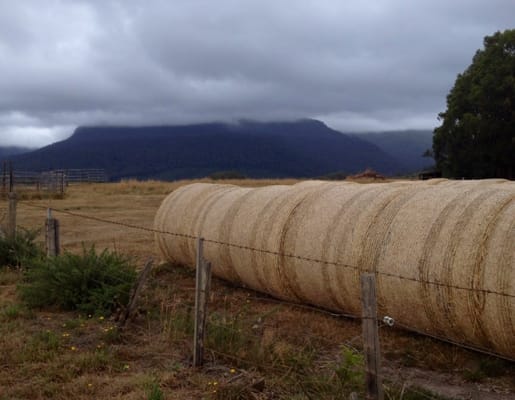 Edited with BlogPad Pro