Anticipation versus reality while walking the Tasmanian Trail
I want to thank everyone for your patience and understanding in waiting to hear about my progress via this blog over these past few weeks. My well-laid plans of wanting to post a daily account while walking the Tasmanian Trail became unstuck in week one.
I anticipated walking for a maximum of 5 hours a day and having ample time in the afternoons and evenings to write. Most days I was taking 6+ hours due to sore feet, stiff legs and navigation. On top of this, the rigours of finding a camp and getting used to putting up and pulling down camp took all my energy and time during the first week on the road.
Week one rolled into week two and I made every effort to catch up on the daily posts only to realise by the end of week two that I would not be able to achieve this. On top of still getting used to being on the road, the internet access at our evening camps became non-existent. This made posting on my blog impossible and by the end of week three I became overwhelmed and a little stressed that I had not posted anything for two weeks. After talking it over with Paul I realised that I can only do what I can do and that I could not have predicted how events would unfold while walking the trail. I have also learnt some lessons and understand now how I would do things differently if/when I do anything like this again.
We are finally in a camp area with internet access and I wanted to take the opportunity to let you know the situation if you have been waiting to hear news of my progress. With only two days of walking left, I have decided to post photos and my highlights of walking the Tasmanian Trail once I am back in Hobart when I can give it the time and reflection that it deserves.
Thank you and cheers
Anni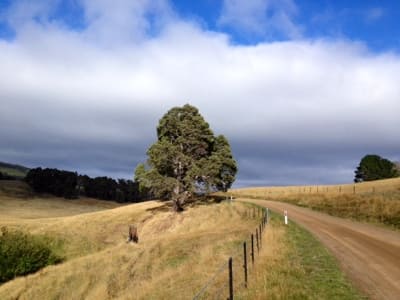 Edited with BlogPad Pro