Paradise to Mersey River 22.1km (13.7mi)
We packed up camp and Paul drove me back to the corner of Old Paradise Road and Paradise Road to start walking my third day. Paradise Road was pleasant to walk along and I passed through some lovely farming country.
As I walked by one farm there were two men and a woman who were camping in the driveway of the property. I could see them watching me walking down the road and as I passed by the gate one of the fella's called out asking where I was walking to. I stopped and told them about the journey I was embarking on. They were initially surprised then once their minds comprehended what I was doing they said "good on you and all the best to you" (this is typical of most peoples reaction when I tell them).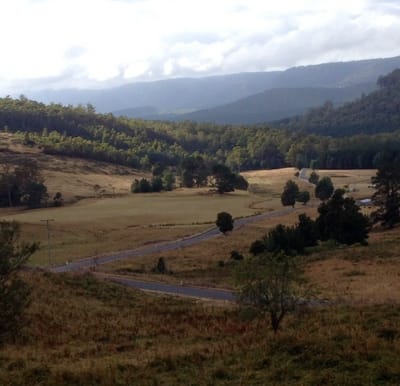 Eventually, I enter Star of the West Road to start the walk along the Gog Ranges. The trail follows Forestry roads and once again I am alone walking through forests and bushland. I enjoy drawing the scent of the pine forest up through my nostrils as I pass through it. This is not the scent you would normally experience on most Australian bushwalks and I wanted to take it in and enjoy every breath of it. The familiar smell of gum trees is equally enjoyable and I make the most of their scent also when it wafts into my nose.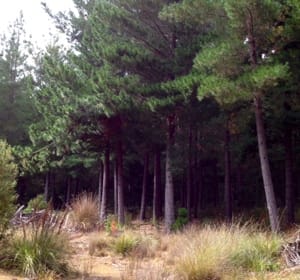 Before meeting up with Paul on Gog Road I climbed a steep hill, I felt tired and my feet were starting to complain. I trudged up the last section to see Paul in the distance waiting for me and on looking up I saw the most wonderful view of the Gog Range which made walking up that hill worthwhile. Paul and I sat in the car and ate our lunch of cheese, salami and some crackers and in no time at all, I was once again Grog Road was beneath my feet as I continued walking, lunch breaks never seem long enough.

I must admit that I felt that the last 5km of this road would never end. Every bend or rise in the road I hoped to see an end to the trail only to be greeted by another stretch of white gravel road ahead of me. With extremely sore feet I eventually hobbled into camp. On taking my shoes and socks off I could see that the rash that had been developing on my lower legs had got worse. They were very red and irritated, but fortunately not itchy. My suspicion is the socks I am wearing and will change to my short sports socks tomorrow to see if that makes a difference.
After a rest, I put on my swimmers (bathers) and flannel (washer) and we went down to the Mersey River to bathe. I put my feet in the water, it was quite cold and the idea of bathing left me. All I could bring myself to do was to splash as much water on myself that I felt I could cope with while making noises such as oooh, aah as the cold water hit my warm body.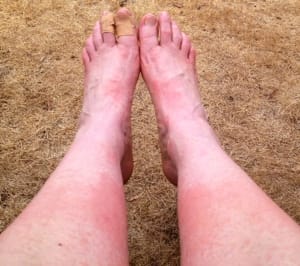 Edited with BlogPad Pro