Mersey River to Leonards Road 23.3km (14.5Mi)
This morning I started my day by crossing the Mersey River. This day was anticipated particularly by Paul as he was concerned for me, worried I may have difficulty on the slippery river rocks. The benefit of choosing to walk in March is that the summer heat has evaporated a lot of the winter rains and snow runoff into the creeks and rivers in Tasmania.
I put on my wet shoes, loaded my pack on my back, got my walking sticks ready and stepped into the cold water. Once in the water, I found that the smaller stones, between the larger stones, were the most stable and I concentrated on stepping on these as I slowly picked my path across.
About two-thirds of the way across the current became stronger as it became deeper and I took extra care with each step as I felt the strength of the water pulling on my legs. I made the crossing safely and turned around to see Paul on the other side and gave him a big grin before I scrambled up the other side to find a spot to dry off my feet and put my walking shoes on.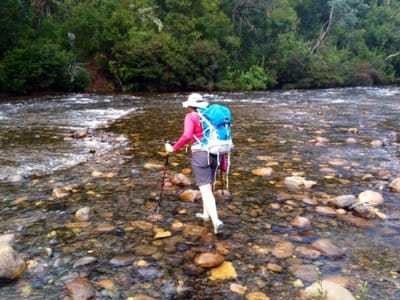 On the map, the trail just beyond the Mersey River was not clearly defined, however, it was well marked and distinct enough where you could walk 2-3 people side by side comfortable. For the first time, I felt I was on a true bushwalking track, it was nice not being on forestry or tarred road.
However, it was not long and I was back on a gravel road heading toward Needles. I came to a T intersection and only found one Tasmanian Trail (TT) arrow marker pointing in one direction with a big white sign attached saying 'alternate route', usually there are two pointers for each direction. I became a little confused so I pulled out my GPS to consult it. At this point, I want to thank Paul for insisting on my having one and making a huge effort to add all the waypoints for the whole trail on it.
I could see that the yellow and red pointer was indicating to walk in completely the wrong direction. I decided to walk in the direction of waypoint 4 on the GPS which headed towards Needles. Walking up a big hill I found some more TT arrow markers on a pole that had come out of the ground and was leaning up against a tree, which didn't inspire any confidence in them.
I checked my GPS again and the trail ahead still seemed to be leading me waypoint 4 so I continued up another steep hill, regularly checking my GPS as I walked along. Eventually, I noticed that waypoint 4 was below me through the thick scrub and I was no longer heading towards it. I realised that I was not on track so headed back down the two hills back to the intersection where my confusion began.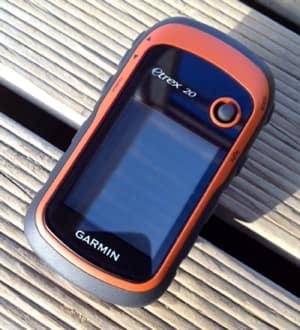 I thought I would follow the trail in the direction of the TT arrow marker for a while to see if that would prove to be the way out. After walking about a kilometre down this track it just felt all wrong to be heading away from Needles so I turned back. I had noticed another trail leading off at the base of the first hill when I had walked in the other direction and I checked on my GPS and it continued to indicated an alternative trail leading down to Mole Creek Road near Needles.
I headed off to see if I could find my way along this track. The track was clearly a road and as I walked along the little arrow on my GPS indicated that I was walking in the right direction. As I ventured further it became obvious that this road had been disused for a long time but the way was clear. I came to a gate that entered into a farm and I made the decision to proceed as I could see the road ahead following a fence line.
I walked through the property passing through a few more gates until I reached the final gate that exited the property. A short trek down the final stretch of what seemed to be the main drive into the property I was on Mole Creek Road where I knew Paul could retrieve me. I phoned him to let him know my location, pulled out my lunch and stood by the road munching on my cheese, salami and crackers until he turned up.
Due to the fact that I had almost already walked all my daily kilometres trying to find my way I made the decision to allow Paul to drive me to the Leonards Road campsite. The site was quite lovely on the edge of a rocky river, however, after some discussion, we ended up driving the extra seven kilometres to Deloraine to camp in a paid site so I could have a well-earned shower and we could get some clothes washing done. The evening was full of setting up and chores that I was glad to finally bed down for the evening after an arduous day.
Edited with BlogPad Pro