Leonards Road to Cluan Tiers Road & Swamp Gum Road 23.9km (14.8Mi)
We drove to Meander Road and Highlands Lakes Road intersection as my drop off point to start walking. This took 2.3km off my overall walking distance for the day however, I decided to walk the Golden Valley route of the trail and not cut across the patchy trail to Maroney's Road, after yesterday's trail misadventures I did not feel like getting lost two days in a row. With the extra kilometres, it took to go in this direction and stopping 3km short of Swamp Gum Road to camp at the end of the day I ended up walking a total of 21.9km today.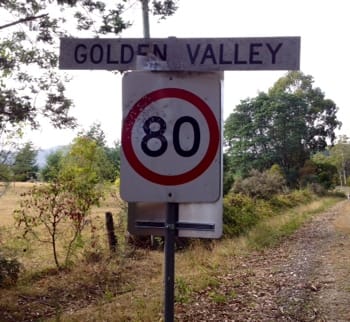 Walking down Highlands Lake Road was like any other tar road with cars zooming by from time to time. Walking on the well-travelled tar roads is not relaxing or the most enjoyable to walk along. I constantly have to keep an ear out for cars approaching and making sure I am not in a blind spot or on a blind corner.
Some people show consideration by slowing down and giving me space where they can, others just speed on by as if I am not there. I prefer to walk facing the traffic approaching me, this way I can watch the cars approaching me and make a judgement if I can comfortably continue on walking on the verge or I need to step away from the road and stop walking. Despite the challenges of avoiding cars, it was a pleasant enough walk walking through bush and farmland.
I walked into Quamby Corner to have Paul greet me and inform me that a lovely lady Dit said we could use the toilets and camp kitchen at the Quamby Corner caravan park which she managed. The only fee she requested is that we take one of their pamphlets to pass on to someone to spread the word of their location, so I think a little promotion is in order.
If you are ever passing through this lovely part of Tasmania they have a camp kitchen, toilets, hot showers, laundry, powered sites, unpowered sites, small onsite caravans and Dit is very welcoming and will greet you with a smile. Quamby Corner caravan park also located on the Great World Heritage Ride if you are a keen cyclist and is now the official end of stage 4 campsite on the Tasmanian Trail.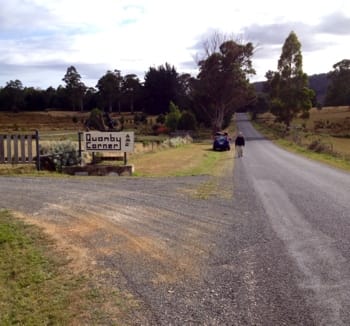 After a rest and some lunch, I continue to trek along and make the turn into Cluan Tier Road which is a clear well-formed forestry road. The only car that passed me along this road was a forestry vehicle which was driven by a Forestry employee Colin Crawford. I know this because he stopped to ask me where I was headed and when I told him I was walking the Tasmanian Trail he said "oh you were the one interviewed on ABC radio the other week. I replied yes and we had a good old chat.
He was very supportive of me walking the trail and thought it should be utilised more. He and his wife rode their pushbikes along the trail ten years ago from Devonport to New Norfolk. Due to flooding at that time they did not continue on to Dover and said they would complete that section one day.
Ok, Colin when you read this you will know in your heart that you must do the last leg of the Tasmanian Trail or the opportunity will pass you by and just because you have walked the Kokoda Track does not excuse you, Don't give up! Don't look up! Green Machine? One more hill! (sorry inside joke to everyone else reading this). Colin was very helpful in providing me tips and directions for tomorrows stage of trail which helped me to be super alert to directions and trail markers the following day.
Paul found us a lovely spot 3km short of where I was due to end my day of walking. We set up camp and it was a wonderfully quiet evening of camping out in the bush. I love that feeling of remoteness when it is just you with the critters, wild animals and strange noises that you don't get to hear when camping in populated areas.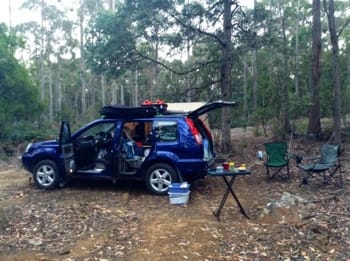 Edited with BlogPad Pro